September is upon us and we are looking forward to the fall.  The month of September is dedicated to the Seven Sorrows of Mary.
And thy own soul a sword shall pierce, that, out of many hearts, thoughts may be revealed - Luke 2:35
The Devotion to Our Lady of Sorrows is a devotion given to us by St. Bridget of Sweden (1303–1373). During this month devoted to our Lady of Sorrows, we are invited to console the Sorrowful Heart of Mary and to unite our suffering to hers and by doing so receive beautiful graces of consolation and strength.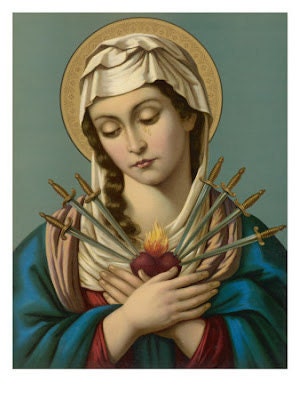 Our Blessed Mother revealed seven promises to St. Bridget of Sweden and said she would bestow seven graces to those souls honoring her daily by saying seven Hail Marys while meditating on her tears and sorrows:​
1. "I will grant peace to their families."
2. "They will be enlightened about the divine Mysteries."
3. "I will console them in their pains and I will accompany them in their work."
4. "I will give them as much as they ask for as long as it does not oppose the adorable will of my divine Son or the sanctification of their souls."
5. "I will defend them in their spiritual battles with the infernal enemy and I will protect them at every instant of their lives."
6. "I will visibly help them at the moment of their death—they will see the face of their mother."
7. "I have obtained this grace from my divine Son, that those who propagate this devotion to my tears and dolors will be taken directly from this earthly life to eternal happiness, since all their sins will be forgiven and my Son will be their eternal consolation and joy."
It is easy to think that we have little in common with Our Lady - or that she has little in common with us. After all, she was in perfect union with the Will of God and we are a fallen people. But this is preceisely the opposite. She is truly united to us in our sufferings because she is intimately united to Our Lord in His.
We console her with this month's devotion to the 7 Sorrows (Dolors) and at the same time, she consoles us in our misery here on earth. We all suffer and we all carry our cross. She is Our Mother - a perfect Mother and as we honor Her, she is consoled.
Let us make time for this beautiful devotion this month of September and continue it on throughout the year. It is truly a beautiful example of the communion of saints in the Body of Christ.
If you need help getting started, we have everything you need inside the Ultimate Catholic Bundle 
You will find all of the devotions, promises, graces, prayers, checklists, planners, novenas, journal reflection pages, printable wall art, coloring pages and activities inside  membership area. Easy to print and download what you need each month. 
Each month is packed full of new tools to easily plan out your devotions for the month. Keep your family on track - from toddlers to teens!